Perspectives of teachers, children, and parents on the transition to first grade

Abstract views: 1308 /

PDF downloads: 628
Keywords:
Transition to first grade, Parental involvement, Children's perspectives, Parent-teacher collaboration, Listening to parents and children
Abstract
This research is a case study of a school that sought to ascertain what is required for the optimal adjustment of children to first grade from the perspective of each partner in the education triad – children, parents, and the teaching staff (teachers and assistant teachers). The research tools adapted to the participants are open-ended questionnaires to elicit the perspectives of the parents and teaching staff, and interviews of the children following their creation of a metaphorical collage to elicit their perspectives. Participants were three first-grade teachers, the assistant first-grade teacher, ten children from one of the first-grade classes, and twelve parents of these children. All the children attend a regional primary school and come from [cooperative Israeli settlements in central Israel. The findings indicate that the emotional climate of the school was regarded as positive by all the respondents. Although all respondents expressed a desire for more inter-personal communication with each other, the expectations of parents and teachers differed with respect to the desired frequency and setting limits on the communication between them. The paper also describes changes instituted to improve communication between the school and the parents in light of the research findings.
References
Acar, I. H., Veziroğlu-Çelik, M., Çelebi, Ş., İngeç, D., & Kuzgunet, S. (2019). Parenting styles and Turkish children's emotion regulation: The mediating role of parent-teacher relationships. Current Psychology, 1-11. doi:10.1007/s12144-019-00390-y
Addi-Raccah, A., & Ainhoren, R. (2009). School governance and teachers' attitudes to parents' involvement in schools. Teaching and Teacher Education, 25(6), 805-813.
Addi-Raccah, A., Amar, J., & Ashwal, Y. (2018). Schools' influence on their environment: The parents' perspective. Educational Management Administration and Leadership, 46(5), 782-799.
Britto, P. R. (2012). School readiness: A conceptual framework. New York: UNICEF. Retrieved from https://www.unicef.org/earlychildhood/files/Child2Child_ConceptualFramework_FINAL(1).pdf
Bronfenbrenner, U. (1979). The ecology of human development experiments by nature and design. Cambridge MA: Harvard University Press.
Bronfenbrenner, U. (1986). Ecology of the family as a context of human development: Research perspectives. Developmental Psychology, 22(6), 723-742.
Bronfenbrenner U., & Morris P. A. (2006). The bioecological model of human development. In R. M. Lerner and W. Damon (Eds.), Theoretical models of human development. Vol. 1 of the Handbook of child psychology (5th ed.) (pp. 793-828). New York: John Wiley & Sons.
Dahlberg, G., Moss, P., & Pence, A. (2013). Beyond quality in early childhood education and care languages of evaluation. London and New York: Routledge, Taylor and Francis Group.
Dayan, Y. (2011). Haperspektiva shel yeladim veyeladot 'al hameyda' shera-uy leha'avir lahorim 'al hana'asah bagan [The perspective of girls and boys about the information that should be given to parents about what takes place in preschool]. Hokrim@Hagil Harakh 1. Retrieved 12.8.2017 from http://sites.levinsky.ac.il/wordpress/kindergarten/wp-content/uploads/articles/yaeldayan.pdf .
de Rivera, J. H. (1992). Emotional climate: Social structure and emotional dynamics. In K. T. Strongman (Ed.), International review of studies on emotion (pp. 197-218). New York: John Wiley & Sons.
Dockett, S., & Perry, B. (2007). Transitions to school: Perceptions, expectations, experiences. Sydney: UNSW Press
Dockett, S., & Perry, B. (2009). Readiness for school: A relational construct. Australasian Journal of Early Childhood, 34(1), 20-26.
Dockett, S., & Perry, B. (2014). Continuity of learning: A resource to support effective transition to school and school age care. Canberra: ACT – Australian Department of Education.
Erez, T., Bienstock, O., & Lukes, R. (2005). Kol hagan bamah: Mekomah shel haganenet betipuah regesh hevrati vekidum yahasim eykhutiyim began hayeladim [All the preschool's a stage: The role of the teacher in fostering socioemotional development and quality relationships in the preschool]. Hoveret Lehanhayat kvutzot gananot/Ministry of Education Publications, Pedagogical Administration, Pedagogical-Counseling Service.
Friedman, I. (2010). Yahasei beit sefer, horim, vekehilah beyisrael [School, parents, and community relations in Israel]. Website of the Initiative for Applied Education Research, Israel Academy of Sciences and Humanities. Retrieved from http://education.academy.ac.il/ .
Gavish, B., & Friedman, I. (2007). Hamoreh keadam irguni: Trumata shel svivat ha'avodah hanitpeset 'al yedei hamoreh lenibuy hashhikah betehilat shnat hahora-ah harishonah uvesiyumah [Teachers as organizational people: The contribution of the work environment as perceived by the teacher to predict burnout at the beginning and end of the first year of teaching] Iyunim beminhal uve-irgun hahinukh / Studies in Educational Administration and Organization, 29, 55-87.
Greenbaum, C., & Fried, D. (Eds.) (2011). Kishrei mishpahah: Misgeret hinukh begil harakh (gan-3): Temunat matzav vehamlatzot. [Family-preschool (K-3) collaboration: Review and recommendations]. Jerusalem: The Initiative for Applied Education Research, Israel Academy of Sciences and Humanities.
Hughes, J. N., Luo, W., Kwok, O., & Loyd, L. K. (2008). Teacher-student support, effortful engagement, and achievement: A 3-year longitudinal study. Journal of Educational Psychology, 100(1) 1-14.
Israel Ministry of Education (2001, 1 December). Hozer Mankal 2/4 [Director-General's Directive 2.4]. Retrieved from http://cms.education.gov.il/EducationCMS/applications/mankal/arc/sb4h2_3_1.htm.
Mayring, P. (2000). Qualitative content analysis. Forum: Qualitative Social Research, 1(2) Art. 20. Retrieved from http://217.160.35.246/fqs-texte/2-00/2-00mayring-e.pdf
Pianta, R. C. (1999). Enhancing relationships between children and teachers. Washington: American Psychological Association.
Pianta, R. C., Kraft-Sayre, M., Rimm-Kaufman, S., Gercke, N., & Higgins, T. (2001). Collaboration in building partnerships between families and schools: National Center for Early Development and Learning's Kindergarten Transition Intervention. Early Childhood Research Quarterly, 16(1), 117-132.
Pianta, R. C., La Paro, K. M., & Hamre, B. K. (2008). Classroom Assessment Scoring System™: Manual K-3. Baltimore: Paul H. Brookes Publishing.
Plotnik, R., & Eshel, M. (2007). Sefer Hagan [The preschool book]. Tel-Aviv: Hakibbutz Hameuchad and the Kibbutz / Movement Education Department.
Russo-Zimet, G. (2016). The metaphorical collage as a research tool in the field of education. Universal Journal of Educational Research 4(4), 802-811. doi:10.13189/ujer.2016.040417.
Sagi-Schwartz, A., & Gini, M. (2008). Ma'agalei bitahon rigshiyim-hevratiyim bein yeladim umorim bemisgeret hinukh [Emotional-social circles of security between children and teachers in educational settings]. In P. Klein and Y. Yablon (Eds.). Mimehkar le'asiyah behinukh legil harakh [From research to practice in early childhood education] (pp. 67-89). Jerusalem: Israel Academy of Sciences and Humanities.
Sayers, M., West, S., Lorains, J., Laidlaw, B., Moore, T., & Robinson, R. (2012). Starting school: A pivotal life transition for children and their families. Australian Institute of Family Studies, 90, 45-56.
Schechtman, Z., & Busharian, O. (Eds.) (2015). Bein horim lemorim behinukh ha'al-yesodi [Parent-teacher relations in secondary education]. Jerusalem: The Initiative for Applied Education Research, Israel Academy of Sciences and Humanities.
Shlaski, S., & Arieli, M. (2001). Mehagishah haparshanit legishot post-modernistiyot bemehkar hahinukh [Interpretive and post-modern approaches to educational research]. In N. Sabar-Ben Yehoshua (Ed.), Masorot vezramim bemehkar eikhuti [Traditions and trends in qualitative research] (pp. 31-76). Or Yehuda, Israel: Dvir.
Tal, C., & Bar, T. (2011). Yahasei mishpahah ma'arekhet hahinukh minekudat mabat historit [Family-school relations in an historical perspective]. In C. Greenbaum and D. Fried (Eds.), Kishrei mishpahah: Misgeret hinukh begil harakh (gan-3): Temunat matzav vehamlatzot [Family-preschool (K-3) collaboration: Review and recommendations] (pp. 171-174). Jerusalem: The Initiative for Applied Education Research. Israel Academy of Sciences and Humanities.
Vogler, P., Crivello, G., & Woodhead, M. (2008). Early childhood transitions research: A review of concepts, theory, and practice. Working Paper No. 48. The Hague: Bernard van Leer Foundation. Retrieved from http://oro.open.ac.uk/16989/1/Vogler_et_al_Transitions_PDF.DAT.pdf.
Walker, J. M. T., & Hoover-Dempsey, K. V. (2015). Parental engagement and classroom management. In E. T. Emmer and E. J. Sabornie (Eds.), Handbook of classroom management (pp. 459-478). New York and London: Routledge.
Yin, R. K. (2009). Case study research: Design and methods (4th ed.). Thousand Oaks, CA: Sage Publications.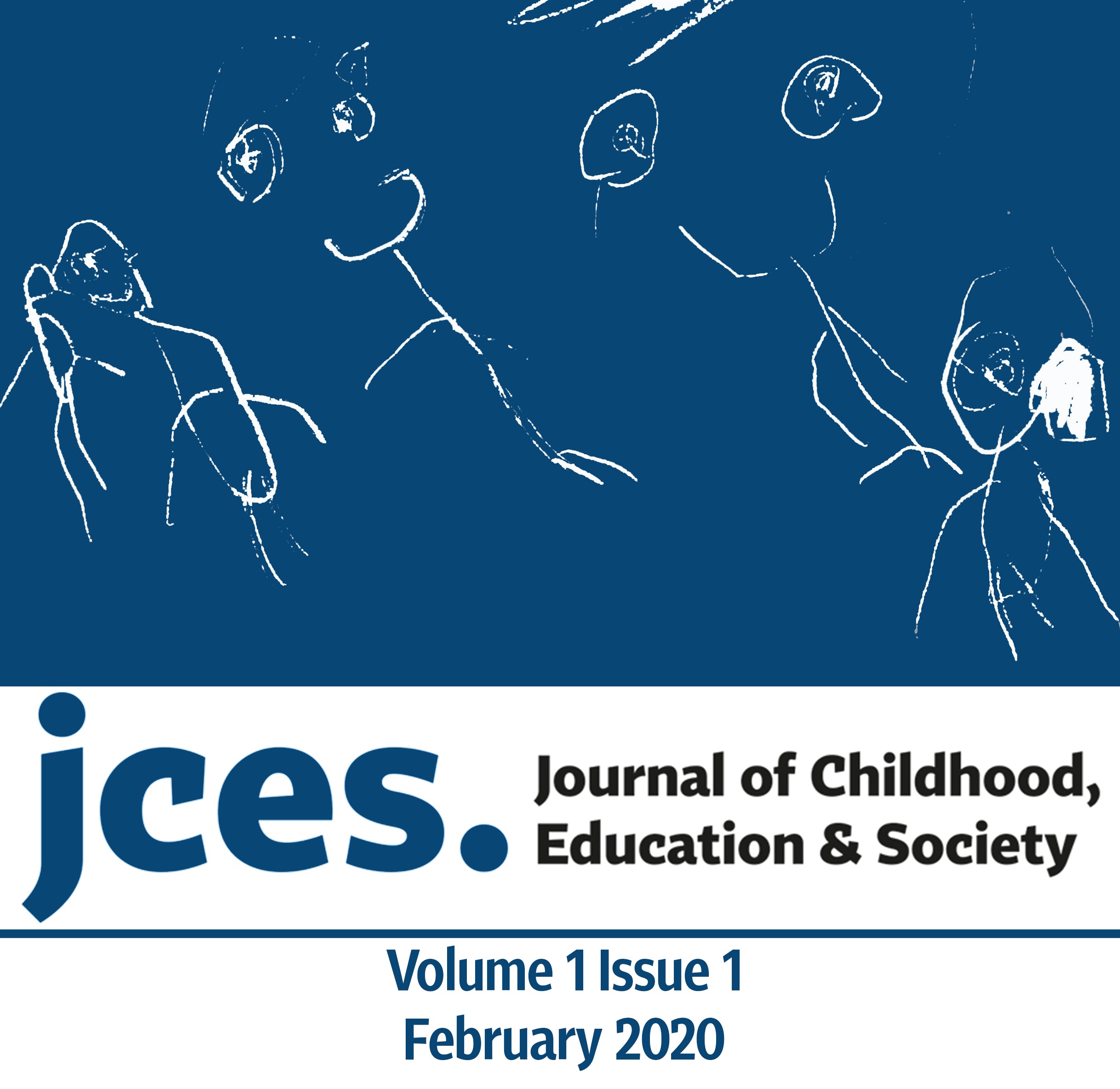 Downloads
How to Cite
Breuer, M. ., & Tal, C. (2020). Perspectives of teachers, children, and parents on the transition to first grade. Journal of Childhood, Education & Society, 1(1), 3–18. https://doi.org/10.37291/2717638X.2020112
Section
Research Articles
License
Attribution: You must give appropriate credit, provide a link to the license, and indicate if changes were made. You may do so in any reasonable manner, but not in any way that suggests the licensor endorses you or your use.
NonCommercial: You may not use the material for commercial purposes.
NoDerivatives: If you remix, transform, or build upon the material, you may not distribute the modified material.
Author(s) must confirm that the Journal of Childhood, Education & Society retains all the copyrights unconditionally and indefinitely to publish articles.