Teachers' perspectives on optimizing manipulatives in teaching 21st century skills in kindergarten

Abstract views: 1172 /

PDF downloads: 664
Keywords:
Manipulatives, 21st century skills, Kindergarten, Children's behavior, Teacher training, Learning tools, Teaching tools
Abstract
Kindergarten teachers optimize manipulatives in teaching young children. These manipulatives can be tools in developing essential skills needed to meet the demands of 21st century society. A descriptive mixed method design was employed in this study. Qualitative data were gathered using interviews and classroom observations, while quantitative data were extracted from questionnaire and classroom inventory checklist. Quantitative data were analyzed using descriptive statistics, whereas qualitative data were transcribed, coded, and categorized by themes. Research respondents were the 25 kindergarten teachers from public schools (n=8) and private schools (n=3) in Pulilan, Bulacan. Results showed that teachers use manipulatives in the teaching and learning process as these provide many opportunities for children to learn and acquire different skills. Several manipulatives develop more than one skill, depending on their characteristics and nature. Moreover, skill development varies depending on the activity and type of manipulatives used.  The research finds that manipulatives continue to be relevant and can be used to develop 21st century skills in kindergarten. However, teachers need to undergo training on the optimization of manipulatives that are readily available in the kindergarten classroom. Furthermore, there is a need for schools to invest in different manipulatives for use in kindergarten.
References
Act Phils. (2012, June 3). Nationally-Paid Kinder Teachers – Low Pay and yet Delayed. The state of kindergarten. https://www.philippinesbasiceducation.us/2012/06/state-of-kindergarten.html
Aral, N., Gursoy, F., & Can Yasar, M. (2012). An investigation of the effect of puzzle design on children's development areas. Procedia - Social and Behavioral Sciences, 51, 228-233. DOI: https://doi.org/10.1016/j.sbspro.2012.08.150
Berkseth, H. A. (2013, May 9). The effectiveness of manipulatives in the elementary school classroom. Digital Commons @WayneState. https://digitalcommons.wayne.edu/cgi/viewcontent.cgi?article=1010&context=honorstheses
Britto, P. R. (2017). Early childhood development - For every child, early moments matter. UNICEF for every child 75. https://www.unicef.org/reports/early-moments-matter-every-child
Clavio, J. C. V., & Fajardo, A. C. (2008). Toy as instructional tools in developing problem-solving in children. Education Quarterly U.P. College of Education, 66(1), 87-100.
Cockett, A., & Kilgour, P. W. (2015). Mathematical manipulatives: Creating an environment for understanding, efficiency, engagement, and enjoyment. Teach Collection of Christian Education, 1(1), 47-54.
Czerkawski, B. C. (2014). Designing deeper learning experiences for online learning. Journal of Interactive Learning, 13(2), 29-40.
D'Angelo, F., & Iliev, N. (2012, March 12). Teaching mathematics to young children through the use of concrete and virtual manipulative. https://files.eric.ed.gov/fulltext/ED534228.pdf
Implementing rules and regulations of republic act (RA) No. 10157 Otherwise Known as "The Kindergarten Education Act." DepEd Order No. 32 (2017). https://www.deped.gov.ph/2012/04/17/do-32-s-2012-implementing-rules-and-regulations-of-republic-act-ra-no-10157-otherwise-known-as-the-kindergarten-education-act/
Felix-Aguelo, R. (2017). Enhancing students' language competencies through collaborative learning. Online Proceeding of the International Conference: DRAL 3/19the ESEA 2017, 1(1) (pp. 305-311). KMUTT SOLA. https://sola.kmutt.ac.th/dral2017/proceedings/5-6Additional/305-311_Enhancing%20Students%E2%80%99%20Language%20Competencies%20through%20Collaborative%20Learning_Raziel%20Felix-Aguelo.pdf
Heddens, J. W. (1986). Bridging the gap between the concrete and the abstract. Arithmetic Teacher, 33(6), 14-17. DOI: https://doi.org/10.5951/AT.33.6.0014
Larbi, E., & Mavis, O. (2016). The use of manipulatives in mathematics education. Journal of Education and Practice, 7(36), 53-61.
Lewin, K. M. (2007). Long term planning for EFA and the MDGs: Modes and mechanisms. CREATE.
Lillard, A. (2013). Playful learning and montessori education. American Journal of Play, 5(2), 157-186.
Moyer, P. S. (2001). Are we having fun yet? How teachers use manipulatives to teach mathematics. Educational Studies in Mathematics, 47(2), 175-197. DOI: https://doi.org/10.1023/A:1014596316942
Republic of the Philippines. (1987). Philippines Constitution of 1987, Article XIV. Republic of the Philippines.
Rich, E. (2010, October 11). How do you define 21st-century learning? Education Week. https://www.edweek.org/teaching-learning/how-do-you-define-21st-century-learning/2010/10
Ross, D. (2017, April 24). Empowering our students with 21st-century skills for today. Getting Smart. https://www.gettingsmart.com/2017/04/empowering-students-21st-century-skills/
Sebesta, L. M., & Martin, S.R. M. (2004). Fractions: Building a foundation with concrete manipulatives. Illinois School Journals, 83(2), 3-23.
Silber, M. (2015). From seed to mighty tree: Susan Blow and the development of the American kindergarten movement [Undergraduate Thesis]. Washington University Open Scholarship. https://openscholarship.wustl.edu/undergrad_open/26/
Sulistyaningsih, D., Mawarsari, V. D., Hidayah, I., & Dwijanto. (2017). Manipulatives implementation for supporting learning of mathematics for prospective teachers. Journal of Physics: Conference Series, 824(1), 1-6. DOI: https://doi.org/10.1088/1742-6596/824/1/012047
Trilling, B., & Fadel, C. (2009). 21st century skills: Learning for life in our times. Jossey-Bass/Wiley.
Tunks, K. W. (2009). Block play: Practical suggestions for common dilemmas. Dimension of Early Childhood, 37(1), 3-8.
United Nations Children's Fund. (2013). Education for all: Beyond 2015 mapping current international actions to define the post-2015 education and development agenda. https://apprendre.auf.org/wp-content/opera/13-BF-References-et-biblio-RPT2014/Education%20in%20the%20Post-2015%20Development%20Agenda_Draft%20Synthesis%20Report%20.pdf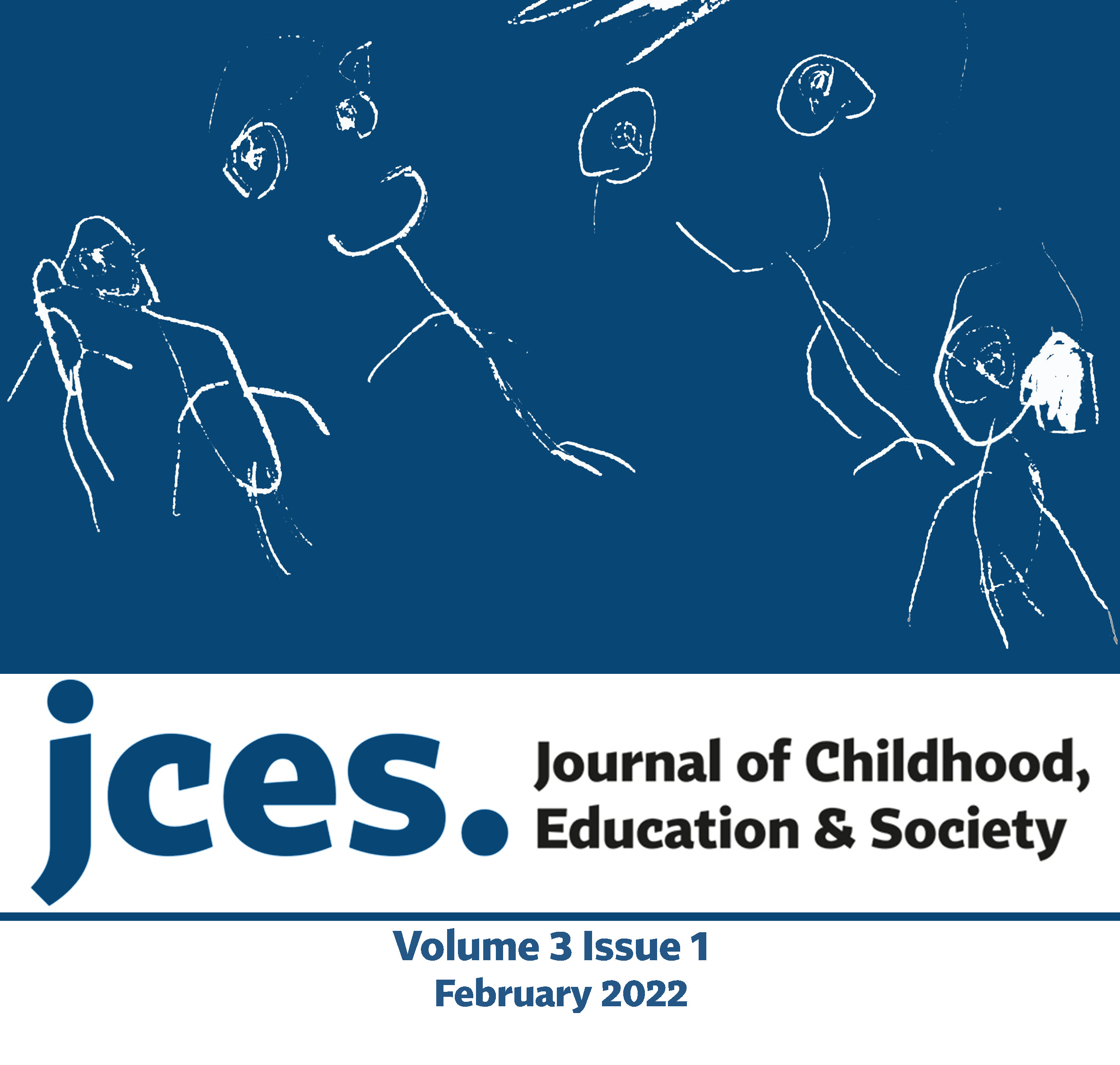 Downloads
How to Cite
Ramilo, R., Cruz, M. P., D. Geanga, J. P., & Faustino, J. B. (2022). Teachers' perspectives on optimizing manipulatives in teaching 21st century skills in kindergarten. Journal of Childhood, Education & Society, 3(1), 1–11. https://doi.org/10.37291/2717638X.20223198
Section
Research Articles
License
Copyright (c) 2022 Journal of Childhood, Education & Society
This work is licensed under a Creative Commons Attribution-NonCommercial-NoDerivatives 4.0 International License.
Attribution: You must give appropriate credit, provide a link to the license, and indicate if changes were made. You may do so in any reasonable manner, but not in any way that suggests the licensor endorses you or your use.
NonCommercial: You may not use the material for commercial purposes.
NoDerivatives: If you remix, transform, or build upon the material, you may not distribute the modified material.
Author(s) must confirm that the Journal of Childhood, Education & Society retains all the copyrights unconditionally and indefinitely to publish articles.