Parents' role in adolescents' leisure time use: From goals to parenting practices

Abstract views: 1349 /

PDF downloads: 531
Keywords:
Parenting practices, Adolescents, Leisure activities, Resources, Social class differences
Abstract
Inspired by Ann Swidler's toolkit theory, this qualitative study aims to achieve a better understanding of social class differences in parenting practices and, in turn, in young people's leisure time use. To that end, 32 semi-structured face-to-face interviews with parents from middle- and working-class families were conducted in a small city in Belgium. An inductive thematic analysis revealed substantial social class differences with respect to three parenting practices: (1) setting an example, (2) resolving conflicts and (3) facilitating leisure activities. The interviews showed that these differences were mainly linked to social class differences in parents' resources: working-class parents more often lacked flexible time, financial resources, an extensive social network on which they could rely and the institutionally required attitudes, skills and experience to engage in the above-mentioned parenting practices. We conclude that young people's (continued) institutional leisure participation puts high requirements on parents and not all (working-class) parents are able to live up to such requirements. In that way, contemporary leisure settings reproduce rather than mitigate inequality in the use of leisure time.
References
Agency Internal Governance & Research Department of the Flemish Government (2016). Municipal profile Ninove. Brussels: Agency Internal Governance and Research Department of the Flemish Government.
Allison, K. R., Adlaf, E. M., Dwyer, J. J. M., Lysy, D. C., & Irving, H. M. (2007). The decline in physical activity among adolescent students: A cross-national comparison. Canadian Journal of Public Health, 98(2), 97¬¬–100. DOI: https://doi.org/10.1007/BF03404317
Bennett, P. R., Lutz, A. C., & Jayaram, L. (2012). Beyond the schoolyard: The role of parenting logics, financial resources and social institutions in the social class gap in structured activity participation. Sociology of Education, 85(2), 131–157. DOI: https://doi.org/10.1177/0038040711431585
Bourdieu, P. (1986). Forms of capital. In J. G. Richardson (Ed.), Handbook of theory and research for the Sociology of Education (pp. 241–258). New York: Greenwoord Press.
Bourdieu, P. (1993). The field of cultural production. UK: Polity Press.
Council of Europe. (2003). Recommendation Rec (2003) 6 of the Committee of Ministers to member states on improving physical education and sport for children and young people in all European countries. Brussels: Council of Europe.
Coussée, F. (2006). De pedagogiek van het jeugdwerk. Gent: Academia Press.
Currid-Halkett, E. (2017). The sum of small things. A theory of the aspirational class. Oxford: Princeton University Press.
De Graaf, N. D., De Graaf, P. M., & Kraaykamp, G. (2000). Parental cultural capital and educational attainment in the Netherlands: A refinement of the cultural capital perspective. Sociology of Education, 73(2), 92–111. DOI: https://doi.org/10.2307/2673239
European Commission (2015). The contribution of youth work to address the challenges young people are facing, in particular the transition from education to employment. Results of the expert group set up under the European Union Work Plan for Youth for 2014-2015. Brussels: European Commission.
Fawcett, L. M., Garton, A. F., & Dandy, J. (2009). Role of motivation, self-efficacy and parent support in adolescent structured leisure activity participation. Australian Journal of Psychology, 61(3), 175–182. DOI: https://doi.org/10.1080/00049530802326792
Fletcher, A. C., Elder, G. H., & Mekos, D. (2000). Parental influences on adolescent involvement in community activities. Journal of Research on Adolescence, 10(1), 29–48. DOI: https://doi.org/10.1207/SJRA1001_2
Furlong, A., & Cartmel, F. (2007). Young people and social change. New Perspectives. England: Open University Press.
Geudens, T., Costanzo, S. Hofmann, P., Amorim, L., & Pavlovova, L. (2013). T-KIT. International voluntary service. Strasbourg: Council of Europe Publishing.
Hamnett, C. (2001). Social segregation and social polarization. In R. Paddison (Ed.), Handbook of urban studies (pp. 162–176). London: Sage Publications.
Horvat, E. M., Weininger E. B., & Lareau, A. (2003). From social ties to social capital: Class differences in the relations between schools and parent Networks. American Educational Research Journal, 40(2), 319–351. DOI: https://doi.org/10.3102/00028312040002319
Hsieh, H.-F., & Shannon, S. E. (2005). Three approaches to qualitative content analysis. Qualitative Health Research, 15(9), 1277–1288. DOI: https://doi.org/10.1177/1049732305276687
Lamont, M., & Small, M. L. (2008). How culture matters: Enriching our understanding of poverty. In D. Harris & A. C. Lin (Eds.), The colors of poverty: Why racial and ethnic disparities persist (pp. 76–102). New York: Russell Sage Foundation.
Lareau, A. (2003). Unequal childhoods: Class, race and family life. London: University of California Press.
Lietz, C. A., Langer, C. L., & Furman, R. (2006). Establishing trustworthiness in qualitative research in social work. Implications from a study regarding spirituality. Qualitative Social Work, 5(4), 441–458. DOI: https://doi.org/10.1177/1473325006070288
Lizardo, O., & Strand, M. (2010). Skills, toolkits, contexts and institutions: Clarifying the relationship between different approaches to cognition in cultural sociology. Poetics, 38(2), 205–228. DOI: https://doi.org/10.1016/j.poetic.2009.11.003
Mahoney, J., & Stattin, H. (2000). Leisure activities and adolescent antisocial behavior: The role of structure and social context. Journal of Adolescence, 23(2), 113–127. DOI: https://doi.org/10.1006/jado.2000.0302
Mullan, K. (2010). Families that read: A time-diary analysis of young people's and parents reading. Journal of Research in Reading, 33(4), 414–430. DOI: https://doi.org/10.1111/j.1467-9817.2010.01438.x
Muyters, P. (2014). Policy note Sport 2014-2019. Submitted by Philippe Muyters, Flemish Minister of Work, Economy, Innovation and Sport. Brussels: Flemish government.
Population Affairs Department Ninove (2016). Population according to residence, nationality, age. Ninove: Population Affairs Department Ninove.
Schofield, T., & Weaver, J. (2016). Democratic parenting beliefs and observed parental sensitivity: Reciprocal influences between coparents. Journal of Family Psychology, 30(4), 509–515. DOI: https://doi.org/10.1037/fam0000166
Swidler, A. (1986). Culture in action: Symbols and strategies. American Sociological Review, 51(2), 273–286. DOI: https://doi.org/10.2307/2095521
Vaisey, S. (2010). What people want: Rethinking poverty, culture and educational attainment. The Annals of American Academy of Political and Social Science, 629(1), 75–101. DOI: https://doi.org/10.1177/0002716209357146
Van der Eecken, A., Spruyt, B., & Bradt, L. (2019). Giving young people a well-rounded education: a study of the educational goals parents attach to the leisure activities of their children. Leisure Studies, 38(2), 218–231. DOI: https://doi.org/10.1080/02614367.2018.1554694
Van de Walle, T., Coussée, F., & Bouverne-De Bie, M. (2011). Social exclusion and youth work - from the surface to the depths of an educational practice. Journal of Youth Studies, 14(2), 219–231. DOI: https://doi.org/10.1080/13676261.2010.506534
Vincent, C., & Ball, S. J. (2007). 'Making up' the middle-class child: Families, activities and class dispositions. Sociology, 41(6), 1061–1077. DOI: https://doi.org/10.1177/0038038507082315
Wheeler, S. (2014). Organised activities, educational activities and family activities: How do they feature in the middle-class family's weekend? Leisure Studies, 33(2), 215–232. DOI: https://doi.org/10.1080/02614367.2013.833972
Woodman, D., & Wyn, J. (2015). Class, gender and generation matter: Using the concept of social generation to study inequality and social change. Journal of Youth Studies, 18(1), 1402–1410. DOI: https://doi.org/10.1080/13676261.2015.1048206
Wyn, J., & Woodman, D. (2006). Generation, youth and social change in Australia. Journal of Youth Studies, 9(5), 495–514. DOI: https://doi.org/10.1080/13676260600805713
Zeijl, E. (2001). Young adolescents' leisure. A cross-cultural and cross-sectional study of Dutch and German 10-15 year olds. Opladen: Leske/Budrich.
Zinnecker, J. (1995). The cultural modernisation of childhood. In L. Chisholm, P. Büchner, H.-H. Krüger & M. Du Bois-Reymond (Eds.), Growing up in Europe. Contemporary horizons in childhood and youth studies (pp. 85–94). Berlin: Walter de Gruyter.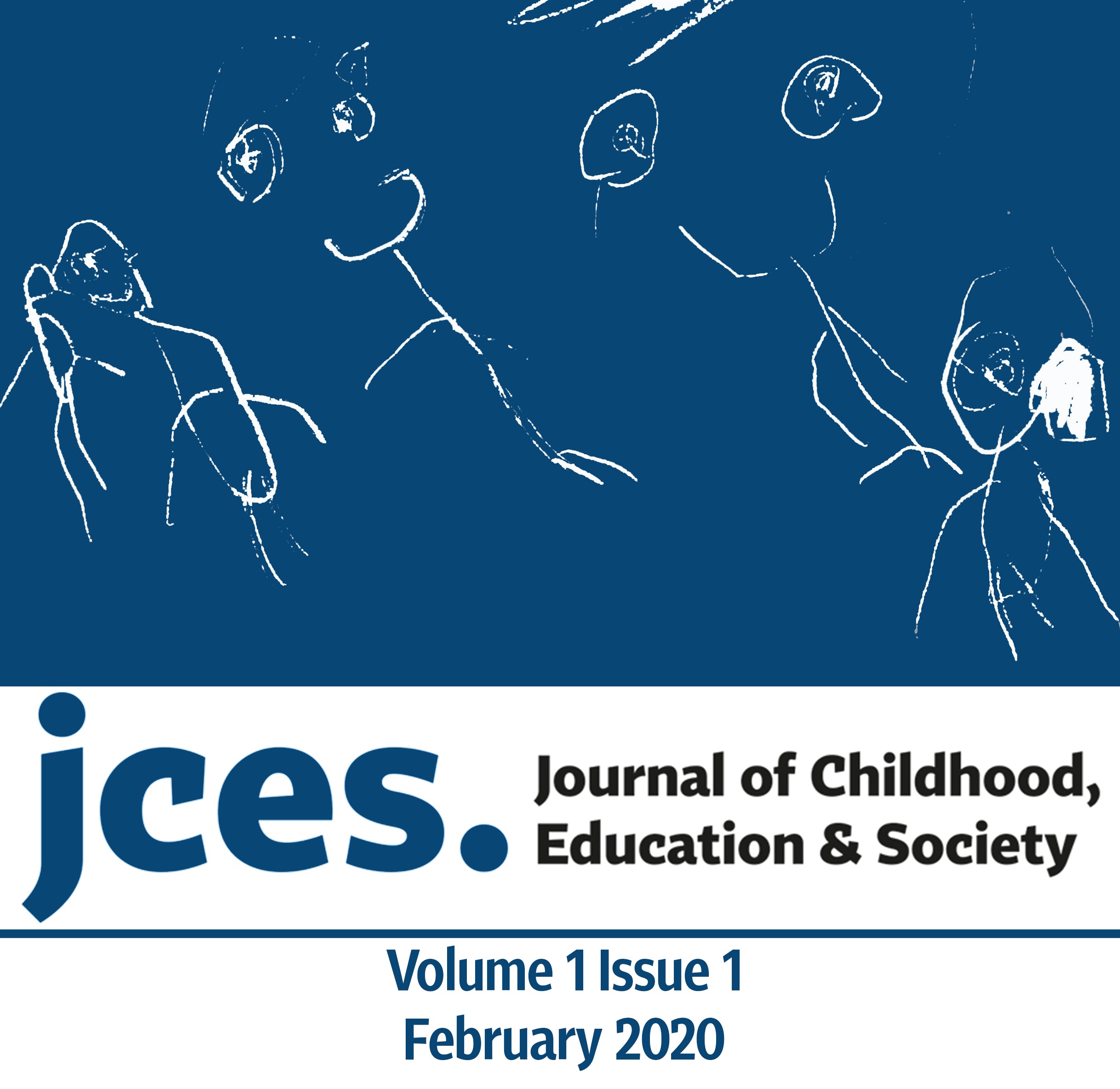 Downloads
How to Cite
Van der Eecken, A., Spruyt, B., & Bradt, L. (2020). Parents' role in adolescents' leisure time use: From goals to parenting practices. Journal of Childhood, Education & Society, 1(1), 43–62. https://doi.org/10.37291/2717638X.20201130
Section
Research Articles
License
Attribution: You must give appropriate credit, provide a link to the license, and indicate if changes were made. You may do so in any reasonable manner, but not in any way that suggests the licensor endorses you or your use.
NonCommercial: You may not use the material for commercial purposes.
NoDerivatives: If you remix, transform, or build upon the material, you may not distribute the modified material.
Author(s) must confirm that the Journal of Childhood, Education & Society retains all the copyrights unconditionally and indefinitely to publish articles.